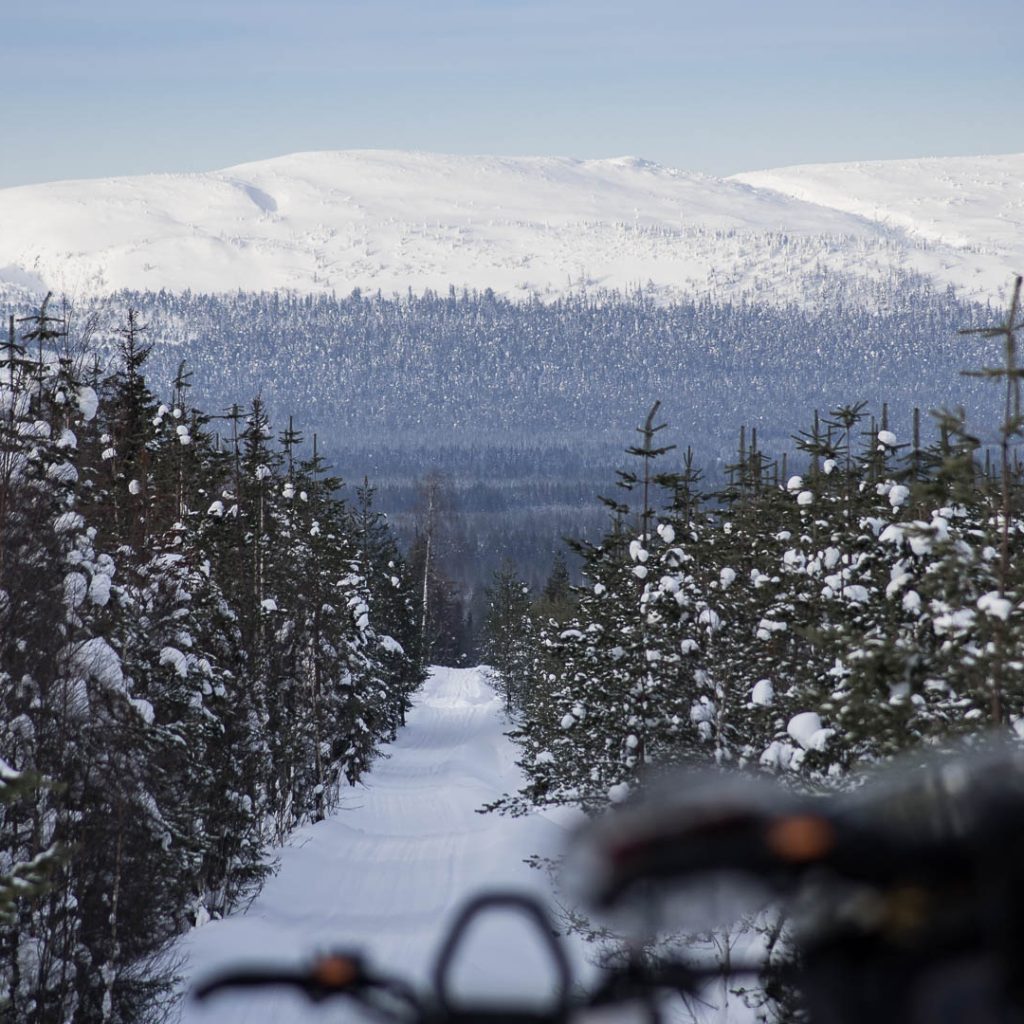 Frequently Asked Questions
This section gives you quick overview about the questions we're asked most frequently and what to expect on our Arctic Expeditions.
Why is single riding only option you offer?
For all our long Arctic Expeditions safaris we strongly recommend one person per snowmobile, i.e. single riding and no sharing (2 on 1 snowmobile) a snowmobile. The distances we cover on these safaris, the cold temperatures of Lapland and the track/snow conditions make traveling as a passenger very uncomfortable. We know from experience that sitting as a passenger will quickly get boring for most people who have an interest in driving a snowmobile. Driving with a passenger means, also, that the driver has to limit his/her playfulness with the snowmobile during the safari and focus more on providing the passenger with a smooth ride.
The powerful models used are partially or mainly built for deep snow riding, for which Arctic Expeditions offer good possibilities. Enjoying deep snow is hindered greatly should the rider have a passenger on the snowmobile with them.
Finally, the more advanced snowmobile models used on the multi-day Arctic Expeditions are primarily also meant for one person, as they also allow for a storage box to be attached for personal luggage. Separate passenger seats can be installed, but then there is no option for this storage box to be attached, and this in turn means you can take very little personal items with you.
Do I need previous experience of riding a snowmobile?
You do not need any snowmobiling experience to participate on most of our long safaris (please see the specific information for each safari), only good physical health and a sense of adventure. The days can be long and demanding but the guide is there to help you and teach you new skills along the way. Before every safari we undertake a safety brief and give driving instructions to all participants so everyone is aware of the basic controls and procedures in regards to driving.
If it will be your first time on a snowmobile, but you have a great sense of adventure, it is recommended that you choose one of the shorter Arctic Expeditions. When making the booking do ask questions and we will guide you, as best as possible, to the right option for you.
How long are the riding distances each day?
The riding distances on our long safaris range between 100 – 240 km, depending on which safari you are enjoying. The specific distances for each long safari are found with the information included under each safari description. Distances can change when needed to cater for the group or adverse weather conditions however. This will be up to the guide and he/she will inform you of any changes to the distance. Guides throughout the long safaris are equipped with GPS so they can alter the distances/routes easily if needed. It is, however, important to bear in mind that hotel/hut bookings and food stop bookings are made with the set tour distances in mind so to reach our accommodation some days can be longer than others.
When booking long safaris keep this in mind and if you think distances sound too much for you then let us know in the booking and we can make recommendations for you.
Do we make stops during the day?
During the long safaris we will have plenty of opportunities to stop for photographs on route. The length of these stops will vary from tour to tour, and depend on the driving conditions and customers driving skills. At the end of each day we do have a destination we need to be at and so some driving distances are long before we make a stop. Should you want more or less stops during your safari let the guide know and they will do their best to cater for you.
What type of accommodation is provided during the safari?
We select the most appropriate accommodation for the area we are travelling through to ensure the customers can relax in the evenings. Accommodation will vary from hotel to cabin depending on the area we are in and the tour you have booked. The facilities of each accommodation may also vary and what is available may be slightly different depending on the time of the day we arrive. If a day takes longer than expected some facilities may not be open, for example, a sauna. Unless otherwise stated all the accommodation is in twin rooms or cabins with shared facilities.
Are meals included during the safari and where do we eat?
Meals are included in all the long safaris with breakfast and dinner in your accommodation for that night. Note that dinner options may vary depending on the distances for the day and the speed of the group. If the guide feels that you will not make the scheduled dinner time other options are made available. Lunches are served on route and the lunch stop location can vary from day to day.
A key ethos to our long safaris is to organise it and do it as an expedition we would do ourselves. This means that lunch is not always going to be on the 'tourist trail' and in 'quintessential Lappish teepees' but where we see fit for the day in regards to the amount of kilometres there is to drive, the ability of the group and the weather conditions. Lunch could be in a local gas station in a very remote village in Northern Lapland or could be in the local deli cafe of a small town we pass on the Finnish-Swedish border. Meals are always based on logistics and focus on using local and small businesses in Lapland. It is advisable to bring with you snacks for the day for the safari and at least a bottle of water which you can fill when needed.
What happens with my luggage during the safari?
As we are travelling by snowmobile the amount of luggage one can carry is limited so bear this in mind when packing. Each participant has a waterproof bag or box with their snowmobile which holds up to 35 litres of luggage. The spirit of Wild Nordic and our Arctic Expeditions has always been that they should be adventurous, therefore, we do not include a shuttle service or have a trailer behind the guide snowmobile carrying your extra holiday luggage. So pack the essentials only for the snowmobile safari. A recommended kit list can be found below .
If you would rather have all your luggage traveling with you please let us beforehand when making the booking so we can change the type of program and organise these services. Your other luggage for the rest of your holiday, after the snowmobiling safari, can be stored safely in our office.
Is the group split up or do we travel together?
During the safari the group is always traveling together. The group size is a maximum of eight people plus the guide, so group sizes are small and personal and ideal for staying together to enjoy the safari. Should you have a bigger group we will still keep your group together but add another guide to the group.
Can I finish my safari early?
Finishing your safari midway through the safari is not always an option due to the logistics of where you are. The very nature of these long safaris mean you can quite literally be in the middle of nowhere with distances of up to 100 km to the closest road. Should you absolutely want to stop the safari in the middle of it, then be aware that it will take time to get the vehicle and trailer to you to pick you and the snowmobiles up. It will also cost you extra, meaning the extra costs incurred by the extra transfer are covered by yourself.
When selecting the long safari be aware of your limitations. If you are unsure on the most suitable safari for you ask us for recommendations before booking so we can advise you! Once you have booked remember to come with an open and adventurous mind; days can be longer than expected, weather conditions can be challenging and terrain will test your driving skills at times but this is what an Arctic Adventure is all about. Whilst on safari trust your professional guide, stay positive and adventurous, let the guide know if you are unsure about anything so they can help you and be prepared for the little surprises a long safari can throw up on occasions.
Do I wear my own winter clothes or do you provide them?
You do not need to provide your own outdoor thermal clothing, we provide it all for you. The outdoor thermal clothing we provide is designed with the very cold arctic winters we experience in Lapland and are the same as our guides wear. These are multi-layered windproof and waterproof trousers and jacket designed for personal comfort and protection against the elements in mind. The boots provided are also multi-layered with a thermal inner boot for warmth surrounded by a thick heeled waterproof outer ensuring your feet are well protected from the cold and also the damp. Our gloves we provide are thermal layered gloves with a durable and waterproof outer cordura fabric that extends over the wrist to ensure maximum insulation for the hands.
The full list of clothing provided is below:
2-part (jacket and trousers) thermal driving suit
– Balaclava mask – Woollen socks
– Winter boots (one size larger than your usual size. Loose-fitting boots keep your feet warm)
– Scarf (if needed)
– Mittens
– Helmet
We recommend you bring with you some thermal base layers to wear under the outdoor thermal clothing provided by us.
Below you will find the recommended under clothing:
– Underwear: breathable and warm material, e.g. long merino wool underwear
– Socks: sport or ski socks worn under woolen socks
– Mid-layer trousers: loose-fitting, fleece or similar
– Shirt: loose-fitting, with long sleeves and possibly a high collar, warm and breathable
– Sweater: wool, fleece or similar
– Extra windproof layer if you have one just in case
– Neck warmer instead of scarf if you want
Remember, in the evenings you will have free time and so a change of dry clothes (hat, gloves, trousers, jumper t-shirt/shirt) is recommended to take with you. This will come with you in your 35-litre dry bag or box. If you are continuing your holiday after the safari you extra belongings/luggage will be stored safely in our office.
What happens if I have an accident with the snowmobile during the safari?
Safety is very important on our guided safaris. Even if everything is well considered, accidents are possible, because of human mistakes. While riding a snowmobile, the vehicle itself is always covered with traffic insurance, demanded by the law. This insurance covers all the possible costs that come to the rider, passenger or possible third party persons (transportation, medical treatment, hospital, doctor, surgery) or third party vehicle (damages, broken parts, repair costs).
However, this insurance does not cover the costs that occur to your own snowmobile, if you are the guilty party for the accident which occurred. Photo's will be taken of the damaged snowmobile and passed back to our office and maintenance team who will assess the cost of the damage. They will further inspect the snowmobile once it is back at the office and evaluate the cost of the repairs. The maximum self-liability in the case of damages is 900€. The cost of the damages will be paid once back at the office after the snowmobile safari.
Should the snowmobile be damaged to the extent that it cannot carry on then a new snowmobile is provided. The cost of transferring the snowmobile (or rental costs of another snowmobile from local service provider) to the location is covered by the customer. If an accident happens, the guide on the long safari will focus his/her attentions to the safety of the customers on the spot and administer first aid to the people involved if needed. After that part is clear, the guide will monitor the vehicles and customers and make the decision, for safety, whether to continue or abort the safari. If the safari needs to be cancelled for safety reasons during the safari there will be no refund made to the customers. Outside of the snowmobiling, we recommend a travel insurance that will cover other activities.