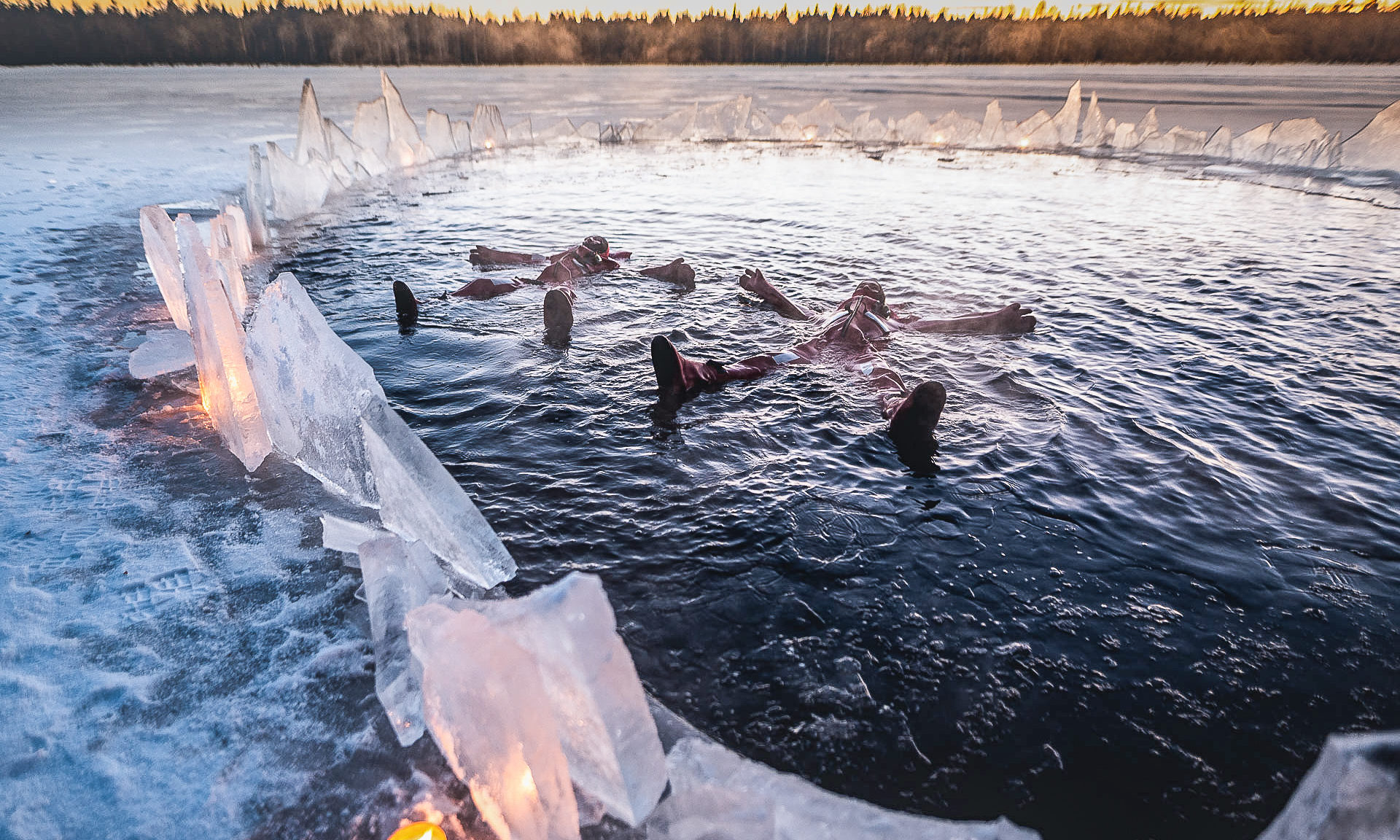 Activities
for Everyone
–
Aurora Ice Floating
// Heron from hinta ?>
Photo: Wild Nordic Finland
Activities, Nature and special experiences, Northern lights
Have you ever thought that you will be floating under the Northern lights in a private lake - a place so peaceful you might hear the famous sound some people swear Auroras make while they dance in the sky?
If this is on your bucket list, look no further as we offer Aurora ice floating in small groups, where you will get plenty of time to float in the lightweight Arctic survival suits that keep you from feeling cold in the frozen lake.
Please note: This activity is not suitable for anyone afraid of dark water. The minimum height for floating is 145 cm. Transfer to the cottage and the private lake is about 30 minutes. Transfer from the Arctic Circle Wilderness Resort and Apukka Resort available from 1.12.2022 onwards with an extra fee (25 € per person), Rovaniemi city center and Santa Claus Village pick-up included in the rate. Time and place for the meeting will be confirmed upon the reservation.
Additional information for individual travellers
Find our full terms and conditions including cancellation policy here.
All tours listed are for a minimum of 2 persons paying a full (adult) price, unless mentioned otherwise.
PRICE INCLUDE
The prices include all described activities, services and equipment.
Some of the products include in winter season a thermal overall, boots, gloves and woolen socks, in snowmobile safaris also helmet and balaclava. This is mentioned in product info.
Please note:  in winter time you always need to have winter outfit for all programs.
GUIDANCE
Guidance is in English, other languages are available on request basis with a possible supplement of 39 € per hour through Monday to Saturday and 55 € per hour on Sundays or bank holidays.
SNOWMOBILE TOURS:
The driver of a snowmobile has to be at least 18 years old and hold a valid driving license – A1, T, A or B category (please check that it is valid in Finland). For all snowmobile tours we ask you to take your driving license with you. Also a copy or photo is suitable.
Please note that it is strictly prohibited to drive a snowmobile under the influence of alcohol or drugs.
The starting point for the safari is stated in the booking confirmation.
The snowmobile driver is held liable for any damages caused to the snowmobile. The driver is held liable for a flat rate of 900 € per person in case of an accident. For our shorter snowmobile tours it is possible for the driver to purchase an insurance from Wild Nordic for 15 € per person (subject to change as advised by Wild Nordic), which reduces the maximum liability to 150 € per person.
NORTHERN LIGHTS TOURS:
Northern lights are a natural occurrence and we are unable to guarantee activity, vibrancy or the colour on the evening of the tour.
Northern lights flight: you need to bring with you your passport and voucher to present, if requested, to your guide.
HIKING BASED ACTIVITIES:
For hiking based activities a reasonable level of fitness is recommended.
ROVANIEMI
All safaris start and end at Wild Nordic Safari Center office (Joulupukintie 1) located next to Santa Claus Village. The starting point for the safari is stated in the booking confirmation.
Most of the tours include a transfer from the main accommodations in the central area of Rovaniemi. Customers shall wait for their pick-up at the given meeting time and point notified by Wild Nordic. All the pick-up times are subject to a 15-minute difference depending on the other participants joining the tours.
For the tours ending at the Wild Nordic Safari Center, located next to the Santa Claus Village, you can always skip the return transfer if you wish to visit Santa Claus.
LEVI
All safaris start and end at in the centre of Levi at the address Myllyjoentie 2. The starting point for the safari is stated in the booking confirmation.
If you have additional questions, please check our FAQ page – it gives a quick overview about the questions we are asked most frequently. If you can't find your answer there, feel free to contact us!
The operator reserves the right to make alterations to the programs, price, duration or form of transportation without prior warning. This is also applied to changes in programs due to weather conditions.
On request
Daily
1.12-14.03 at 20:00
15.03-31.3 at 21:00
Price
Adults: 96 € per person
Child (4-14 yrs): 72€ per person
Minimum of 2 persons, maximum of 8 persons
Including
Tour includes a pick-up/drop-off transfer from main accommodations in the area of central Rovaniemi, Santa Claus Village and Arctic Treehouse Hotel.
Guidance is in English, other languages on request
Send us a request – Rovaniemi