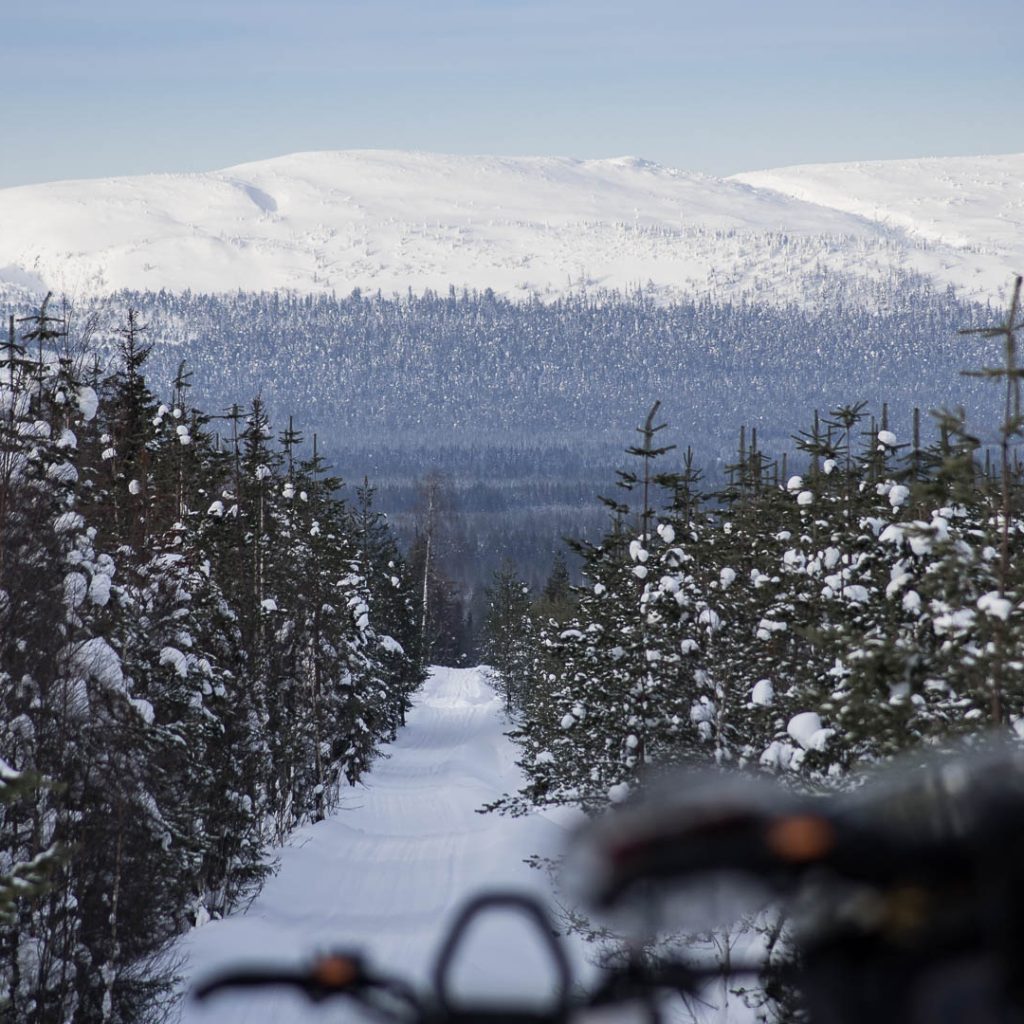 // Heron from hinta ?>
Our Arctic Expeditions were created to share how locals ride in their free time. Accessing areas of Lapland that tourists never see, and riding tracks that have never been used for mass-tourism.
With an abundance of fell scenery and Arctic wilderness to explore, we choose the best route according to the season for the most authentic riding experience. This expedition really focuses on the simple pleasures of riding; becoming one with the sled, the roar of the engine and exploring the unrivaled Arctic Wilderness.
Included in Every Expedition
Pick-up from your accommodation in the centre of Levi, or from Kittilä airport is included in the price of the expedition.
We recommend participants to have a pre- and post-night accommodation booked, but it is possible to start the expedition simply by arriving with an early flight.
At our Wild Nordic Levi Safari Centre, we will provide each participant with professional snowmobiling two-piece thermal outfits, driving equipment, luggage LinQ boxes and instructions for packing. That will be followed by a safety briefing, driving instructions, self-liability agreement and the relaying of any important information for the duration of the expedition (such as weather warnings and safety info etc). A trained, experienced guide and guidance in English is always included in the expedition.
Upon departure from the safari center, the expedition will start and all accommodation (shared rooms) and 3 meals a day are included. The expedition starts with lunch on the expedition departure day and ends with lunch on the final day of the expedition. Each participant who completes the expedition will be rewarded the Expedition Certificate.
Transfer back to your accommodation in the centre of Levi after the expedition is included in the price. We do not recommend booking your return flight for the final day of the expedition in case of delays in the programme. Airport transfers for your return journey can be booked via Wild Nordic Finland with a supplement charge.
Please note that if the participants wish to arrive in Levi by plane on the first day of the expedition they should arrive at Kittilä airport no later than 08:30.
Please note, no refunds will be made for missed departures due to travel delays.
Please always consult our sales representatives in regards to the possibility of a pick up directly from Kittilä airport.
Arctic Expeditions
Group size is maximum 7 people plus guide
The safari may be physically demanding and good physical conditions is required
You will get high quality thermal outdoor outfits and boots for the snowmobile safari. We will ask for your sizes before hand and the outfits will be waiting you on the spot. There is no personal outdoor equipment required, but functional long sport underwear and warm layer beneath your jacket is recommended for your own comfort
Deductibles in case of snowmobile damage 900€
Deductibles in case of participant withdrawal 230€ per person (less than 30km distance) 900€ (more than 30km distance)
Please read through our FAQ page about Arctic Adventures – it gives you quick overview about the questions we're asked most frequently and what to expect on our arctic adventures.
Please note, that it is illegal and strictly prohibited to drive a snowmobile under any influence of alcohol or drugs.
Please note, that for all the activities including snowmobiling we ask you to take your driving licenses with you. Also copy and photos are suitable.
The operator reserves the right to make alterations to the programs, price, duration or form of transportation without prior warning. This is also applied to changes in programs due to weather conditions.
Arctic Expeditions – Snowmobile gear information
"Only the best is enough, when it comes to snowmobiling"
(Sami Päivike, CEO of Wild Nordic Finland, endurance racer, deep snow coach, champion of Ladoga Trophy and Arctic Trophy)
Our company is proud of being part of developing and testing adventure snowmobiles for BRP Finland, the only snowmobile factory in Europe, located at the Arctic Circle, Rovaniemi – our hometown. Our representatives have also a long and successful racing history with BRP.
Challenges are ingredients for achievements. Conditions spice up the experience. Wild Nordic Finland is using only the market leader brand, BRP Lynx Xterrain snowmobiles on its expeditions. These top level snowmobiles are a unique combination of performance, resilience and uncompromising adventure features. For Xterrain, there is no such thing as impossible. Long track (3700 mm) with a leading technology, high profile, fuel-efficient and powerful Rotax 600R ETec engine, deliver grip and performance whenever needed. This snowmobile is designed for endurance and equipped for adventure.
Thanks to high-performance suspension and sporty ergonomics you can effortlessly set the pace. PPS² rear suspension provides balanced performance in variable deep snow conditions. It also has excellent features for trail riding. The Xterrain riding experience is built around the optimized weight distribution and refined riding ergonomics of the Radien-X frame. Every detail is finessed with handling, wind protection and comfort in mind. Even helmet visors are electrically heated!
The Blade DS+ ski provides the Lynx Xterrain adventure snowmobile with precise steering in variable snow conditions. The long ski makes the steering precise and stable on trail and improves maneuverability in deep snow. The Explorer rear bumper protects the rear frame of the Xterrain RE snowmobile and has a number of attachment points which make it easier to attach items onto the tunnel. Explorer front bumper protects the front. Tunnel cooling together with an air radiator with fan keep the engine at optimum temperatures when riding slowly and in varying snow conditions.
Best tools for the best adventures.
Duration
4 days
Departures
On demand
Difficulty Level
Medium
Driving Distance
400 – 500 km
Price
Public departures for 2 – 14 persons (min 2 persons): 3791€ per person
Private tour 2 – 4 persons: 4200€ per person
Private tour 5 – 7 persons: 3408€ per person
Including
All transfers and activities mentioned in the program
2 nights accommodation in a wilderness cabin/hotel on a shared basis
Meals mentioned in the program
Driving equipment, thermal outer-clothing and boots
Professional guiding in English
Not Including
Flights
Recommended stay in Levi before and after the tour
Travel insurance
Arrival / Departure Airport
Send us a request – Rovaniemi